RANGE, 2012 - ongonig
Range: of Masters of Photography considers an analog history of photography within the digital torrent that is its current technological manifestation. For this project I focus on iconic images of mountains in various online and print media such as Aperture's Masters of Photography book series. I downloaded hundreds camera apps for my iPhone to re-photograph the masters' mountains and process them through the multiple filters of the camera apps. Photo grain, dot-screen, pixel, and screen resolution collide performing undulating moirés. The hallucinogenic colors of the camera app filters blend with the disorienting effects of the iPhone's gravity sensor to dislodge any perception of stability in the mountain, the master (most often gendered as male), or the photographic medium. In this work the mountain, the oldest landmark, site of orientation, and spiritual contemplation, becomes unstable, mobile, has no gravity, and changes with each iteration.
Central to this work is the overwhelming number of camera app filters that simulate the mistakes of analogue film photography. Light leaks and chemical burn filters are especially absurd in the context of both analog photography and smart-phone camera technology: 'master' photographers would never accept such mistakes in their work, and the impossibility of holes, gaps, spatial volume, or liquid chemical necessary to produce these effects, stands in complete opposition to the very apparatus simulating them. If light is the first and foremost element of all photography, the role of light in this context is inverted. These "leaks" are the result of an algorithm loaded into the vacuum of a chip, capable of producing nearly endless variations within the space of a few seconds.
Range: of Masters of Photography presents a dialogue between distance and proximity, limited and unlimited, the singular and the multiple, the fixed and the itinerant, the master and the copy.
Below are a few projects and iterations that have developed from Range: of Masters of Photography.
 
 
Mountains, Moving (1850-2012): of Aperture Masters of Photography, for Aperture Remix, 2012
Aperture Remix invited ten contemporary photographers – Rinko Kawauchi, Vik Muniz, Taiyo Onorato and Nico Krebs, Martin Parr, Doug Rickard, Viviane Sassen, Alec Soth, Penelope Umbrico, James Welling –to select an Aperture publication that was influential in forming their work, and to pay it artistic homage. I chose the Aperture's Masters of Photography Series. After I dowloaded on my iPhone as many camera app as I could find, I then re-photographed the mountains I found in the Masters of Photography Series using their various filters.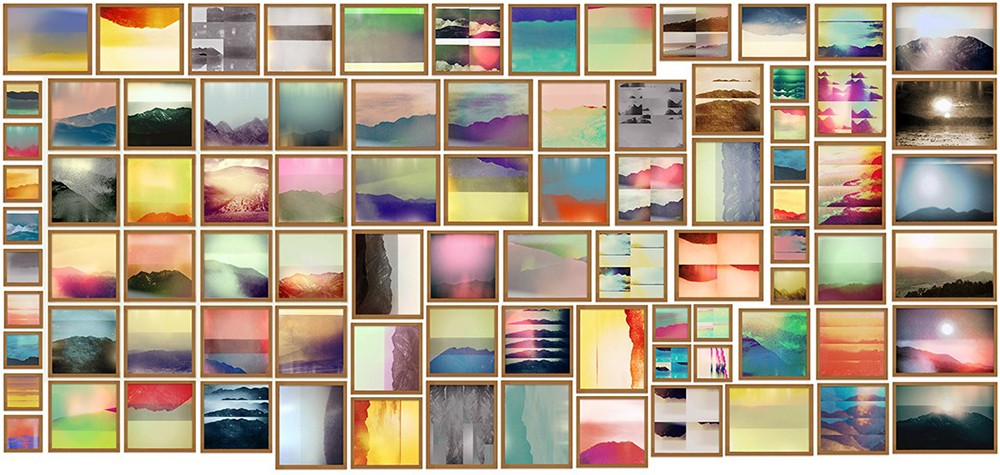 RANGE (1850-2012): of Aperture Masters of Photography, 2012
55 x 118 in
Digital c-prints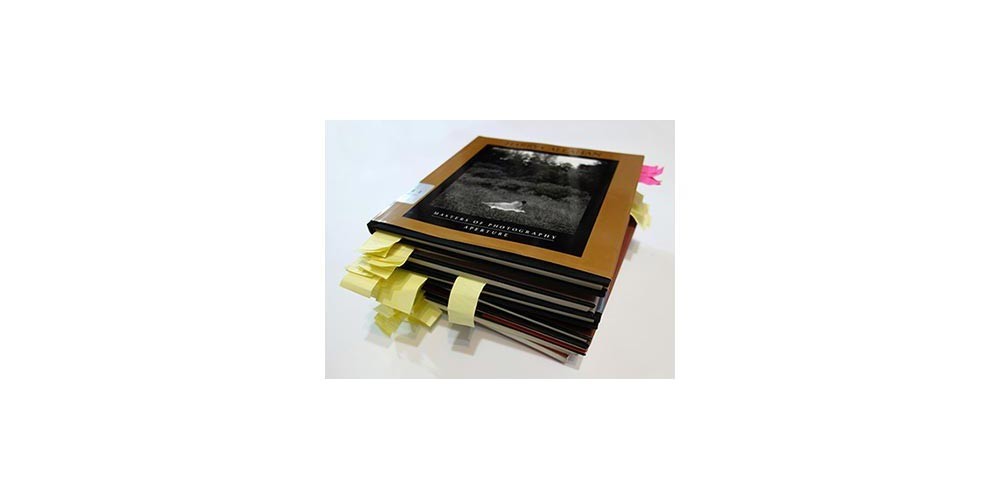 Above left and below: Hanging along side the grouping of 87 prints in the exhibition Aperture Remix were 9 vintage prints of the 16 images I used in the Masters of Photography series - there were 16 with mountains – but only 9 were available for loan. For the 7 that were not available, we made dark reproductions as placeholders to emphasis the singularity of these prints in contrast to the multiplicity of my iPhone pictures of them.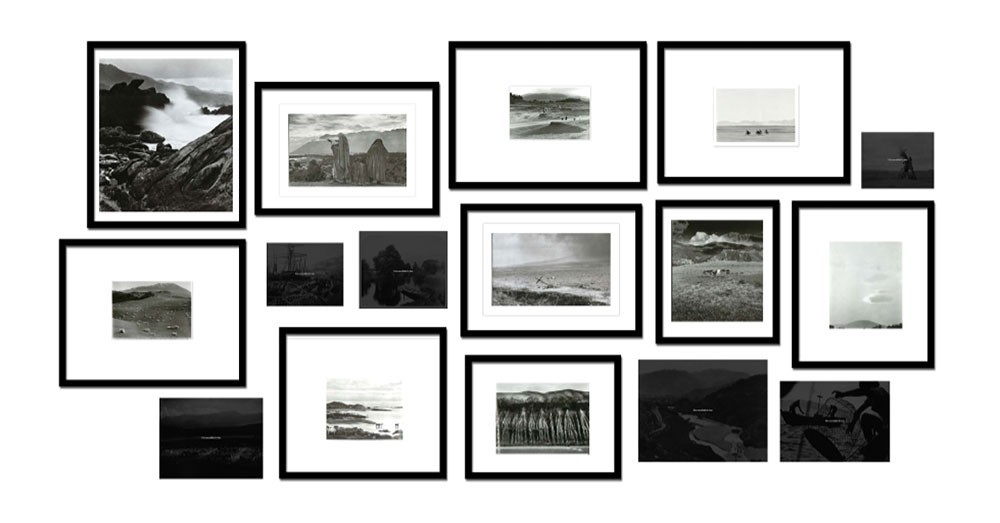 Moving Mountains (1850-2012) is a limited-edition book that was created for the exhibition Aperture Remix and published by Conveyor. This publication drawing on the format and design of the Master Series, included over seventy-five images out of the hundreds created as part of my process; subsequently, I have created an eBook containing over one hundred images, downloadable for free on iTunes from Aperture — note this is Aperture's first free ebook.
Click here for more information
 
You can download Moving Mountains (1850-2012) on iTunes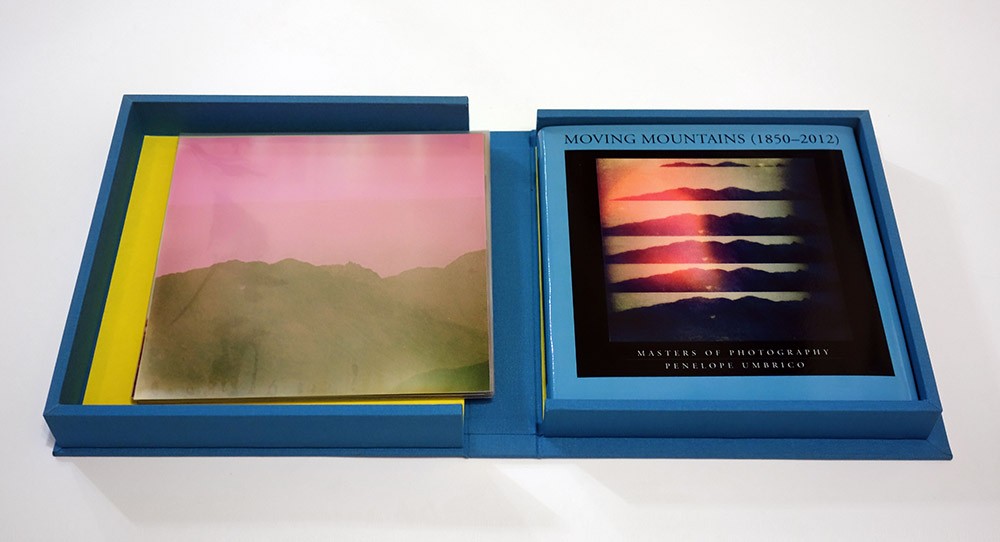 Moving Mountains (1850-2012), 2012
Limited-edition book published by Conveyor in occasion of Aperture Remix show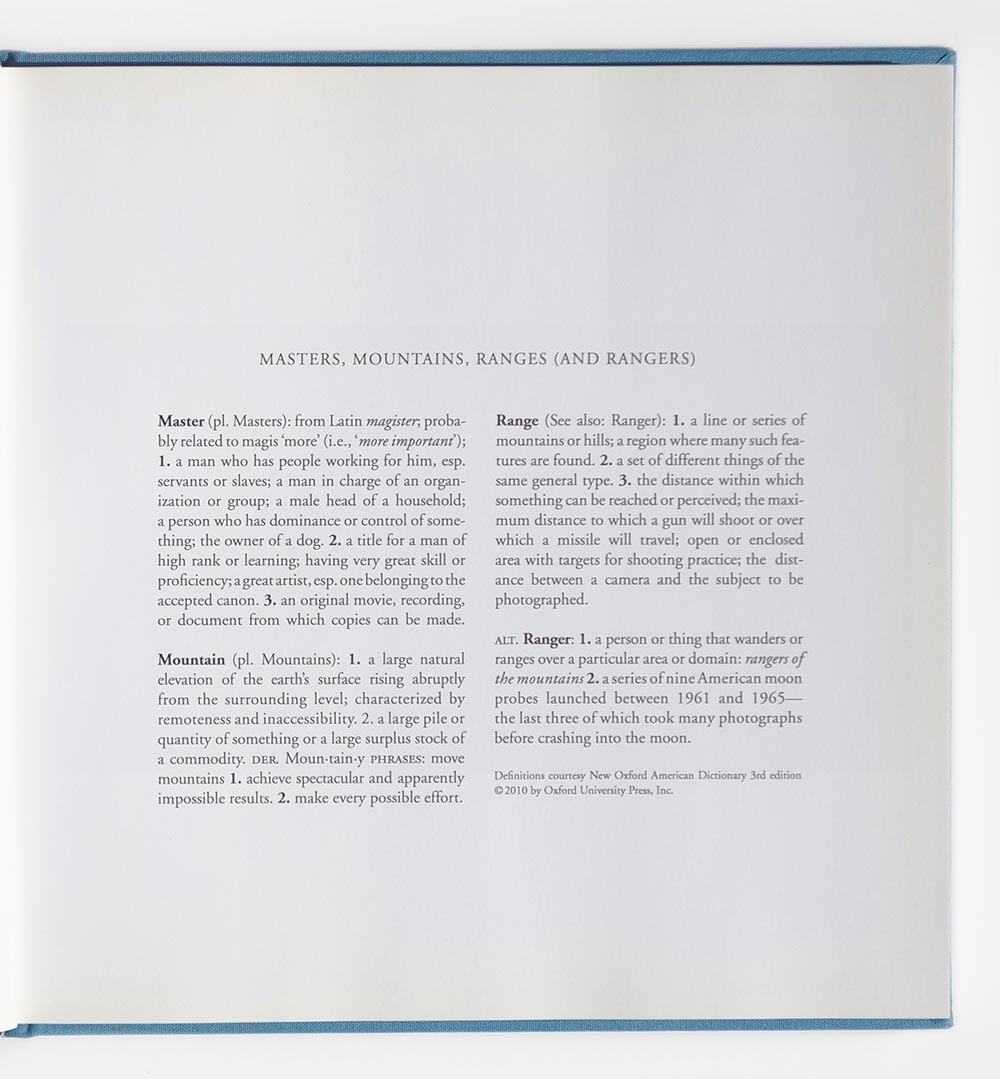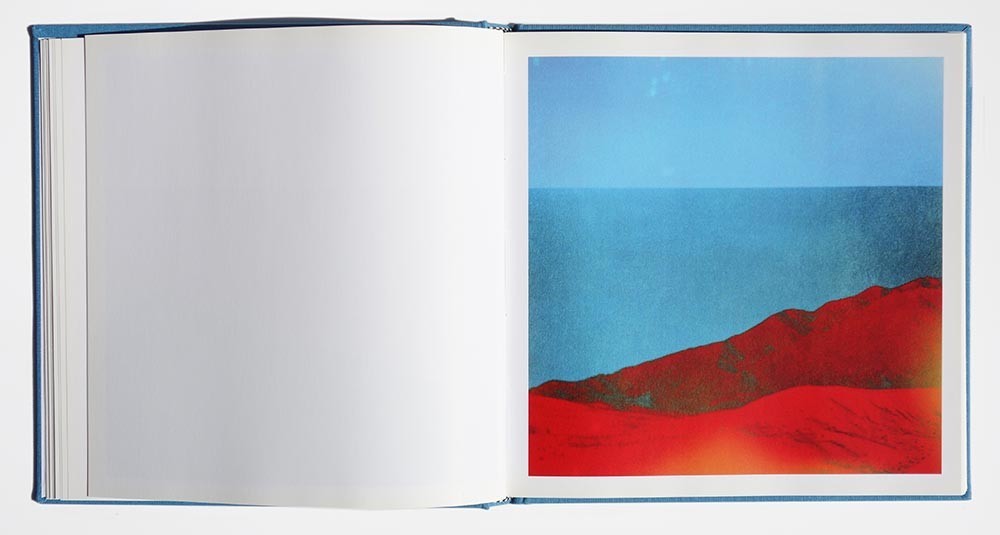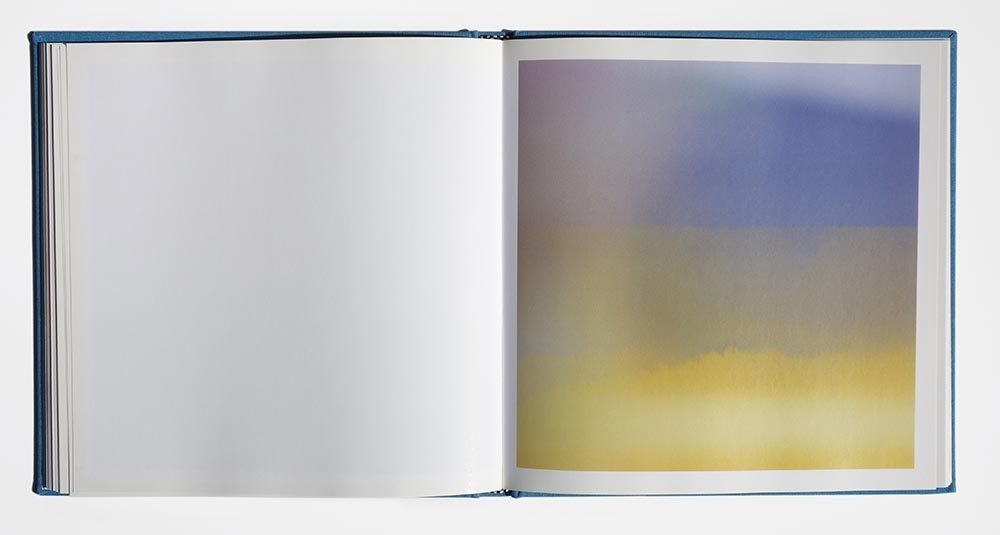 A Proposal and Two Trades is a collaborative project accompanying RANGE: Of Swiss Alp Postcards and Sound of Music, for the Alt+1000 Festival, 2013
 
 
 



RANGE: of Swiss Alp Postcards and Sound of Music, 2013
4 billboards each 124 cm x 220 cm
Installation view during Alt+100 Photography Festival
 
 
 
Proposal:
I propose that we look at the mountain in front of us together - not as individual authors making unique pictures but as a collective group looking together, acknowledging that we commonly use the same mutable smart-phone imaging technologies, and are acquainted with the same iconic images. With respect to the stability of this iconic mountain, I propose that we offer to our smartphones a chance to dialogue with its ancient antithesis.
Two Trades:
1. Take a picture of this mountain with your smart-phone
2. Email me this picture, straight from your smart-phone to my smart-phone at: umbrico@plus1000.ch
3. Trade 1: The camera apps on my smart-phone will learn from your image – a process of give and take, addition and subtraction, overlay, fragmentation, and reconstitution: an image-to-image dialog that results in a trade between the original photograph of a mountain and a new construct of that mountain, produced through digital ideas about analogue photography. A new mountain image is made.
4. Trade 2: I will send you this new image: I acquire new material; you acquire my work (I will include specific instructions in case you want to print it).
These exchanges take place smart-phone-to-smart-phone, never leaving devices that record, receive, process and send, for the duration of the Alt+1000, 2013 Festival.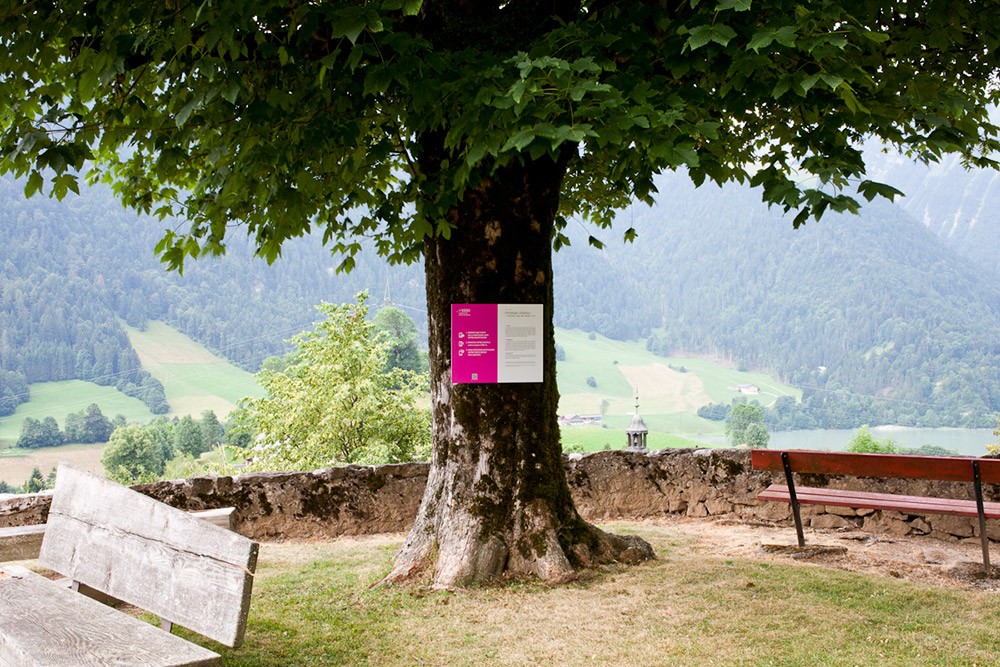 A Proposal and Two Trades, 2013
Installation (Proposal), Alt+1000 Festival, 2013 
 
Screen grabs of my iPhone Camera Roll starting with the originating image sent to me, followed by the evolution of camera app filters applied to the image: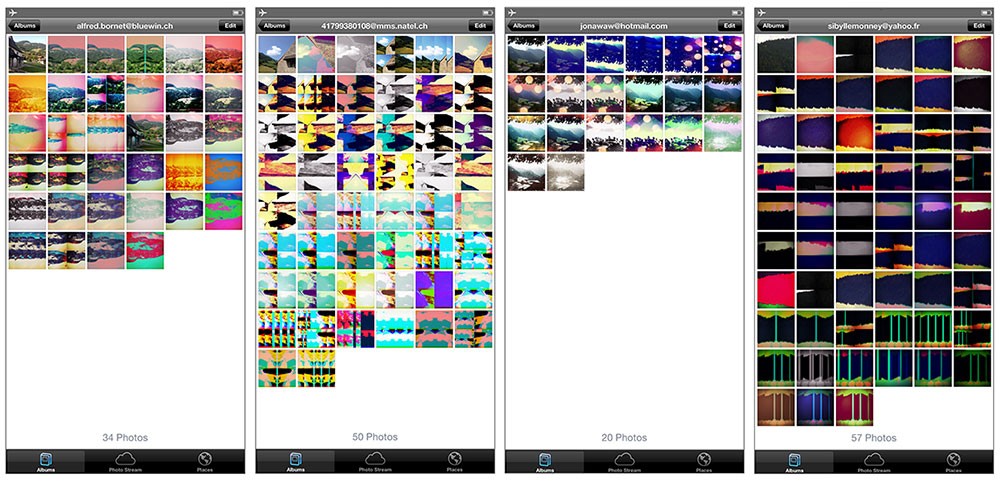 Example of some of the files I've sent back: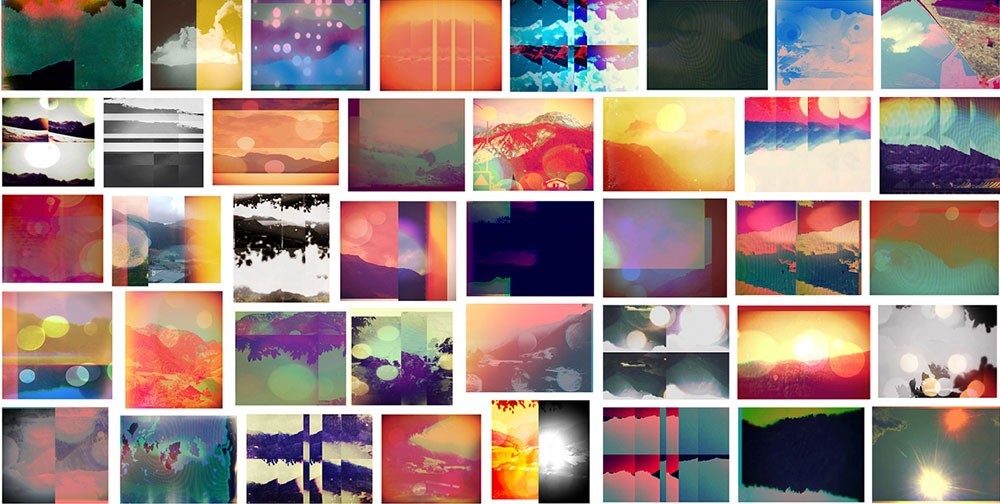 There were a total of 659 photographs emailed to me during the Alt+1000 Festival! When I send the files back to the participants, I include an invitation to have the image be part of a 2 print edition. If they accept, I ask them to: 1. Make 2 prints of the image in any way they like (any size, any medium, any substrate) 2. Keep 1 print, and ship 1 print to me. When I receive their print, I send them a signed "certificate of authenticity" stating that their print is number 1 of 2 (and I keep the print they sent me as number 2 of 2).
Here are some of the prints I've received to date: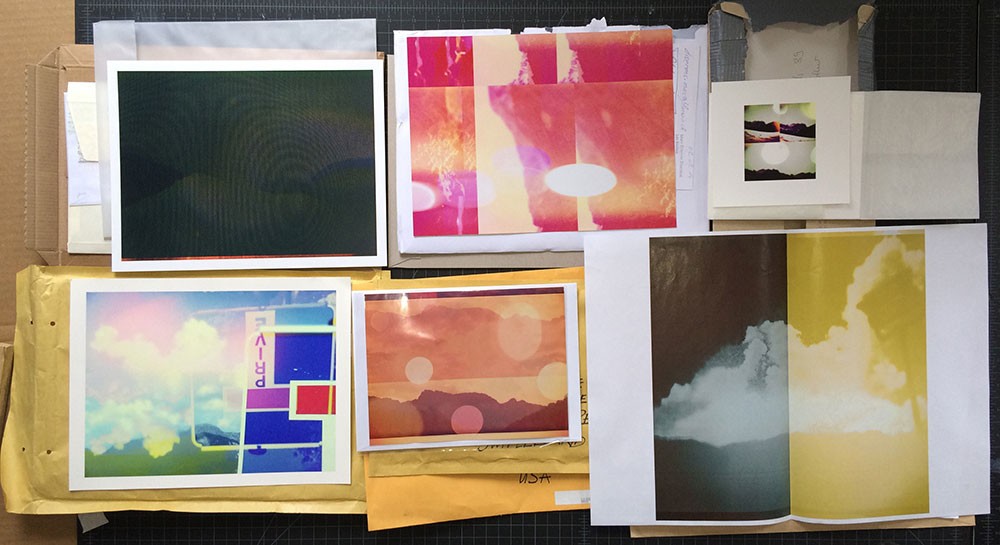 RANGE: of Dr. George C Poundstone 1926 – 2013, Bethel University Olson Gallery, 2013
catalog with an essay by David Little, Curator of Photographs Minneapolis Institute of Art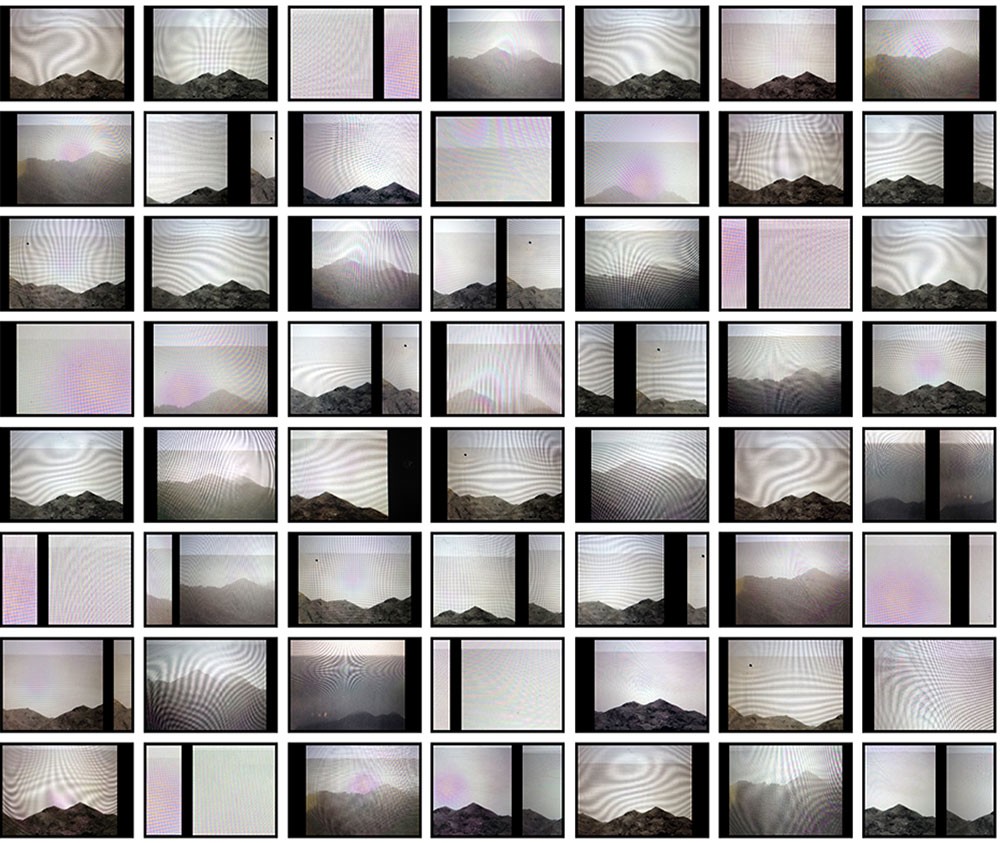 iPhone Screengrabs of Screengrabs of 22 Acceptable Mountains from RANGE: of Dr. George C Poundstone 1926 – 2013, 2013
C-prints on metallic paper
56 prints each 5" x 7"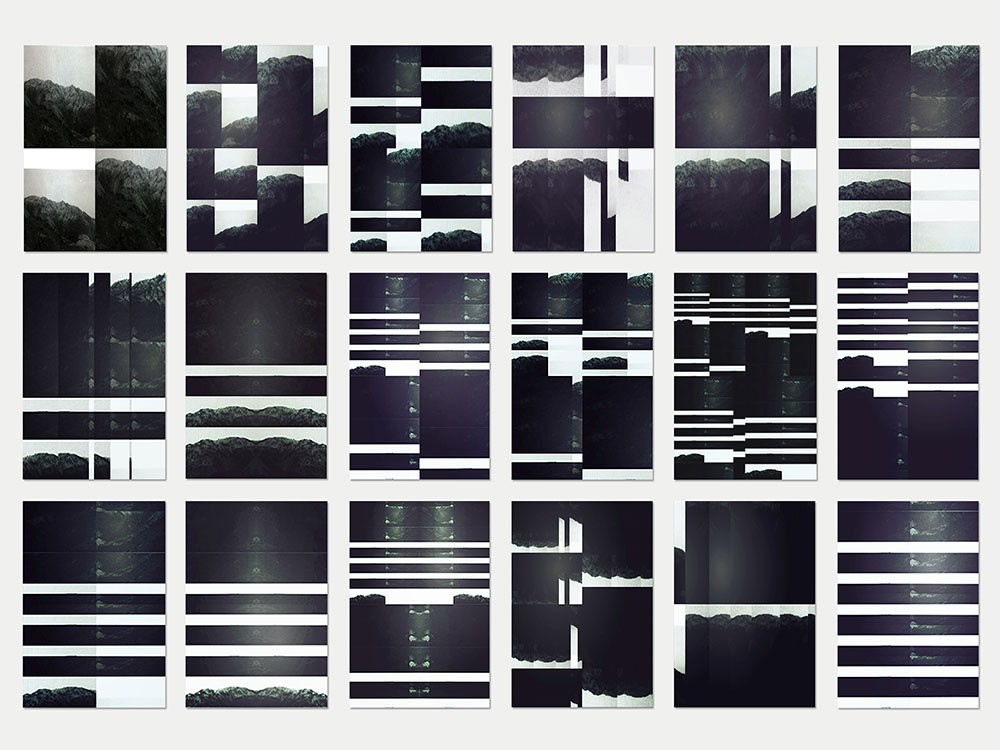 One Weston with Quad Filter from the series Range: of Masters of Photography,, 2013
Archival pigment prints
13 pints each 19 x 13 in
 
 
 
 
 
RANGE (disordered accordion book), published by Aperture, 2014
Constructed as an uneven accordion book in a continual loop, the mountains (with fake light leaks) become part of the structure of the book. The uneven folding mimics that of a mountain range. The inside of the accordion is printed silver, and a continuous list of all the camera app filter names runs along the bottom – the list is left-justified along the bottom, mimicking a mountain range as well. A project description text piece: Masters, Mountains, Ranges (and Rangers) is on the inside of the cover.
 
 
Click here for more information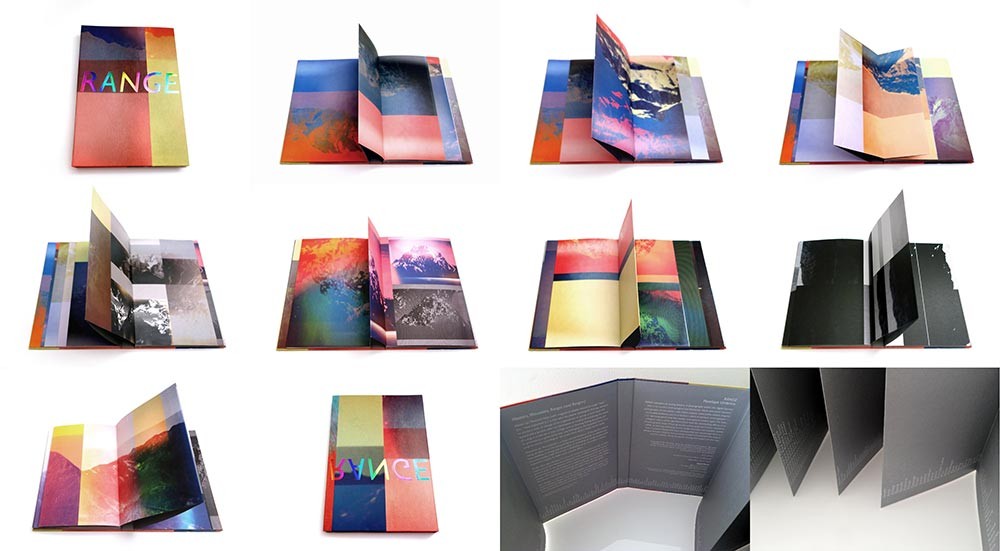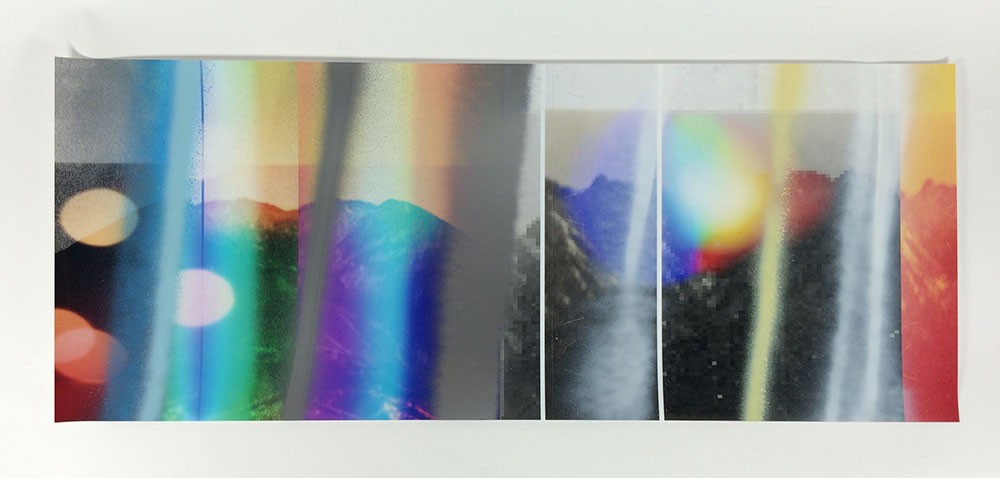 RANGE (3 pages), 2014
Digital c-print and spray enamel
12 x 30 in
Edition of 20 - each unique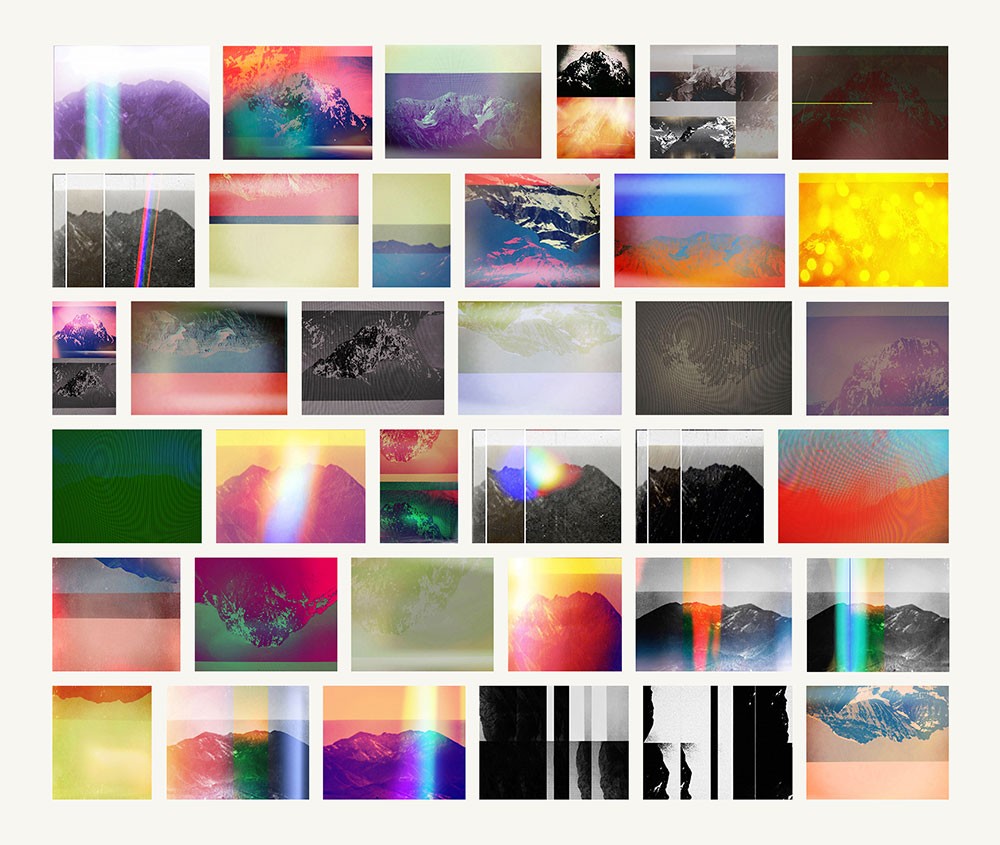 RANGE (pages from the book/edition)
 
 
 
 
 
Range: Light Leaks and Chemical Burns, Installation at Mark Moore Gallery, Los Angeles, 2014
 

For this installation I hung the prints so that the edges of the photographs in books that I had rephotographed, or the graphic edge of a light leak in the camera app I was using, lined up to make a horizontal continuity throughout the gallery space.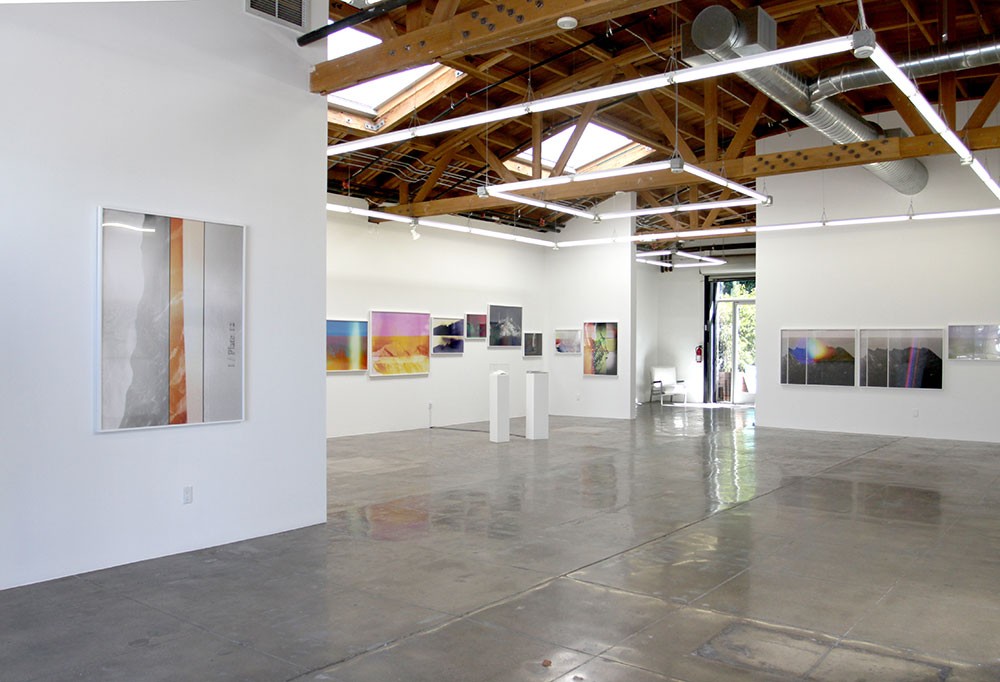 Range: Light Leaks and Chemical Burns
Installation, Mark Moore Gallery, LA, 2014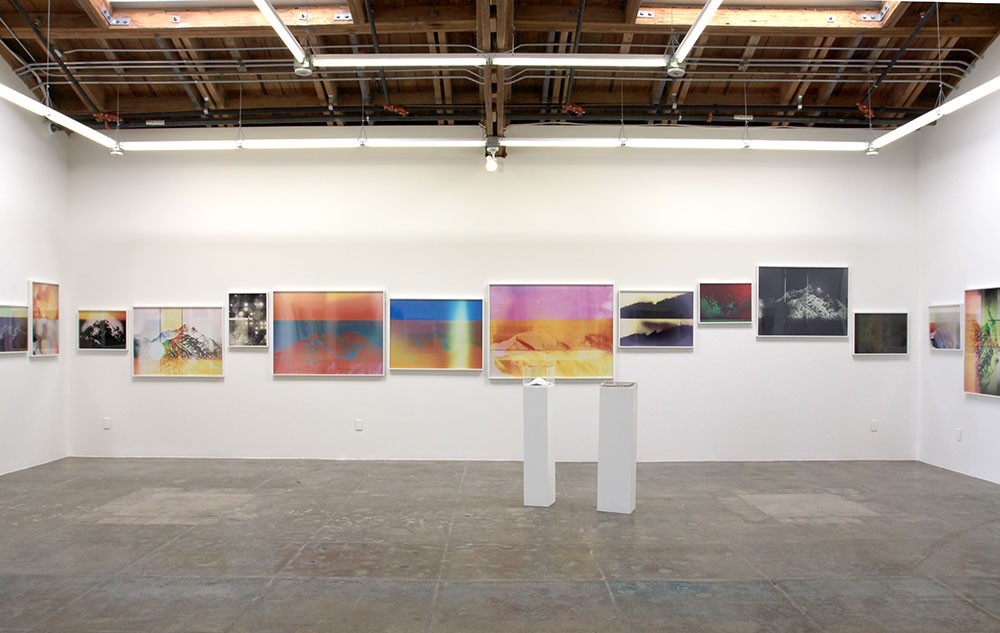 Range: Light Leaks and Chemical Burns
Installation, Mark Moore Gallery, LA, 2014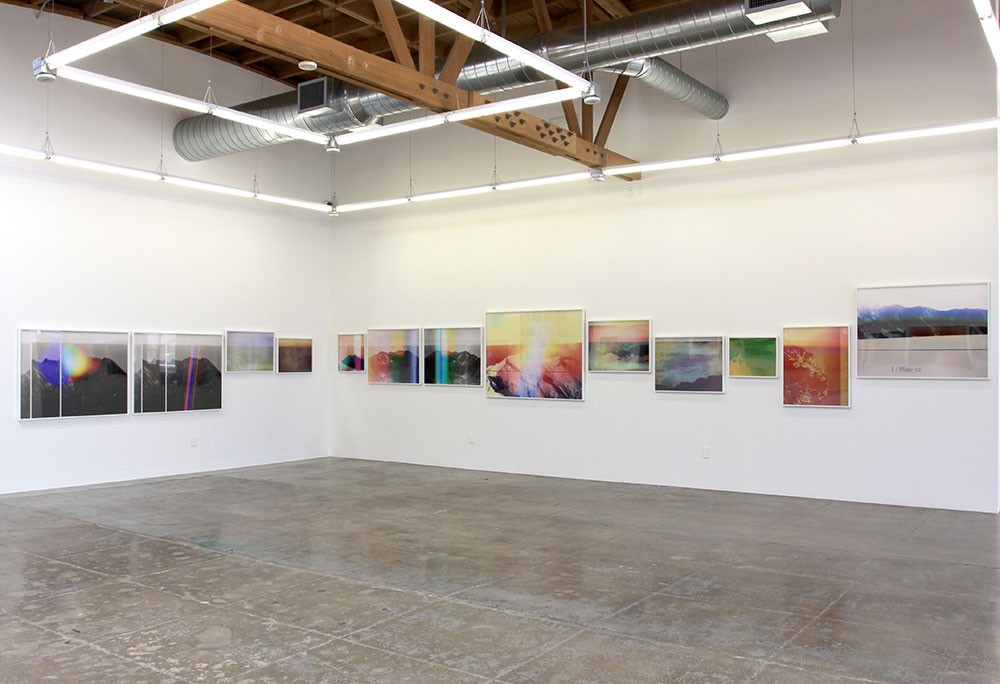 Range: Light Leaks and Chemical Burns
Installation, Mark Moore Gallery, LA, 2014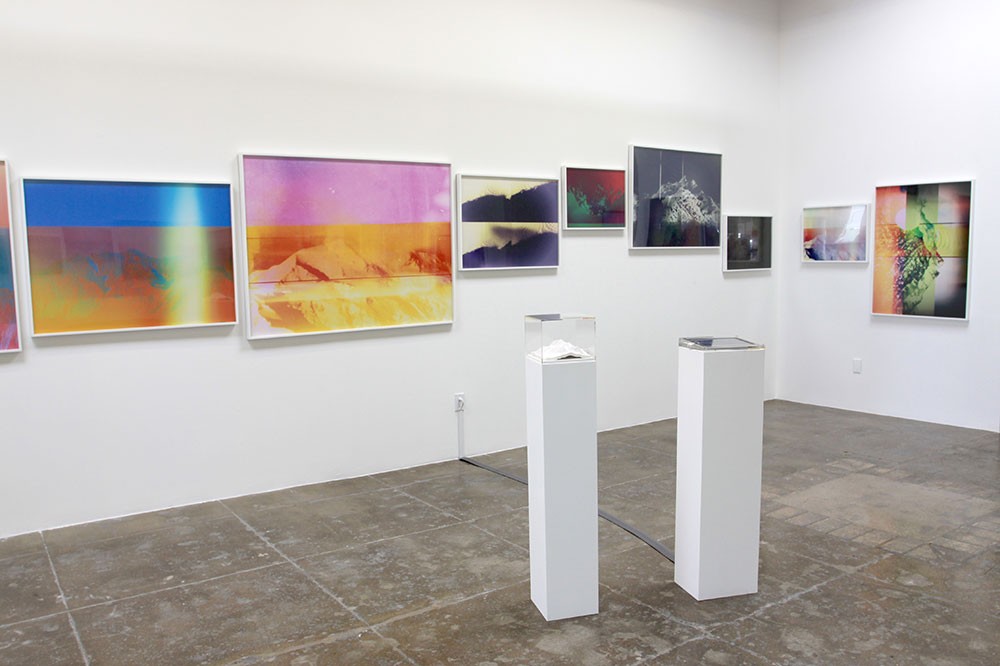 Master Copy (Mount Moran), 2014
Interactive 3D rendering on iPad and sandstone 3D print
   
 
 
Master Copy (Mount Moran), 2014
Interactive 3D rendering web-pieces, and sandstone 3D print

Master Copy (Mount Moran), takes the icon Ansel Adams' photograph, The Tetons and Snake River image as a source to further investigation of the idea of a master point of view. A collaboration with Thomas Storey, who translated Google Earth's satellite photographs of the earth's surface—the tiled texture-mapped model we've come to know as earth online—and extracted this data for the geo-location of Adams' photograph. In this piece, the ancient stable form of the mountain, first captured as a singular monument in a photograph (a process which begins with natural light), moves in multiple iterations through infinitely reproducible and distributable code on the web (the manufactured light of pixel and 3D model), and ends with the image of Mount Moran on Google Earth becoming an independent object through the 3D printing of its associated image data. Master Copy suggests an equivalency here - if the individual photographers were once the masters of how we viewed the natural world, for better or for worse, we now view the world through a master Google lens. Taken from monumental earth through digital code and back again, the mountain ends as a small reconstituted specter of a mountain, along with its shallow shell of an image online.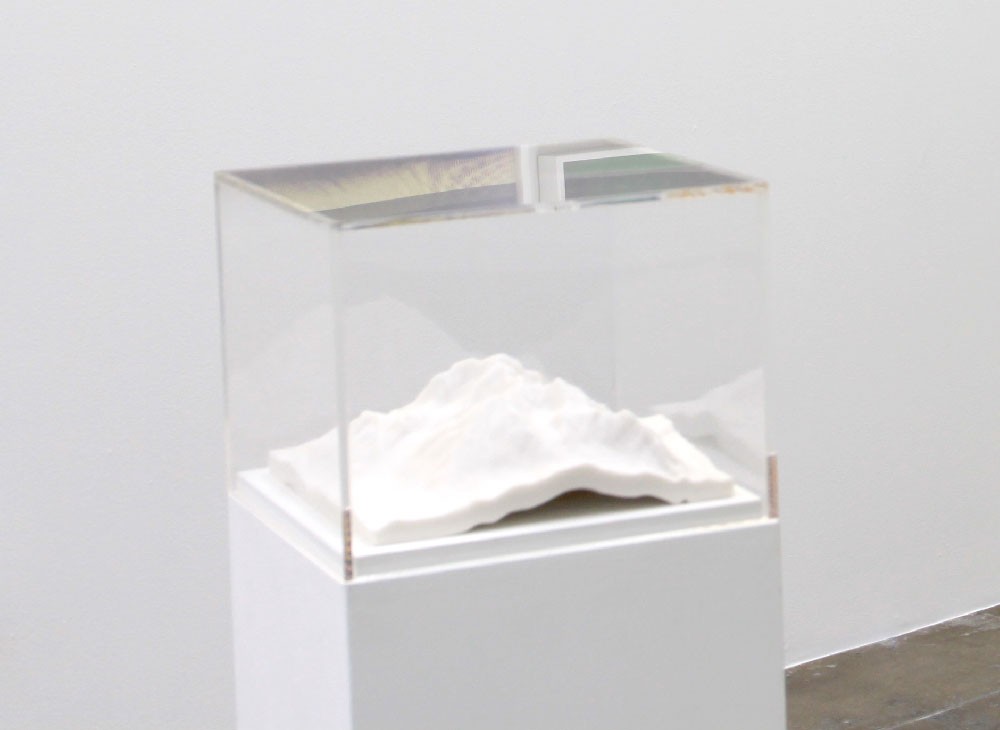 Master Copy (Mount Moran), 2014
Sandstone 3D print, painted wood pedestal, 8" x 8" x 38"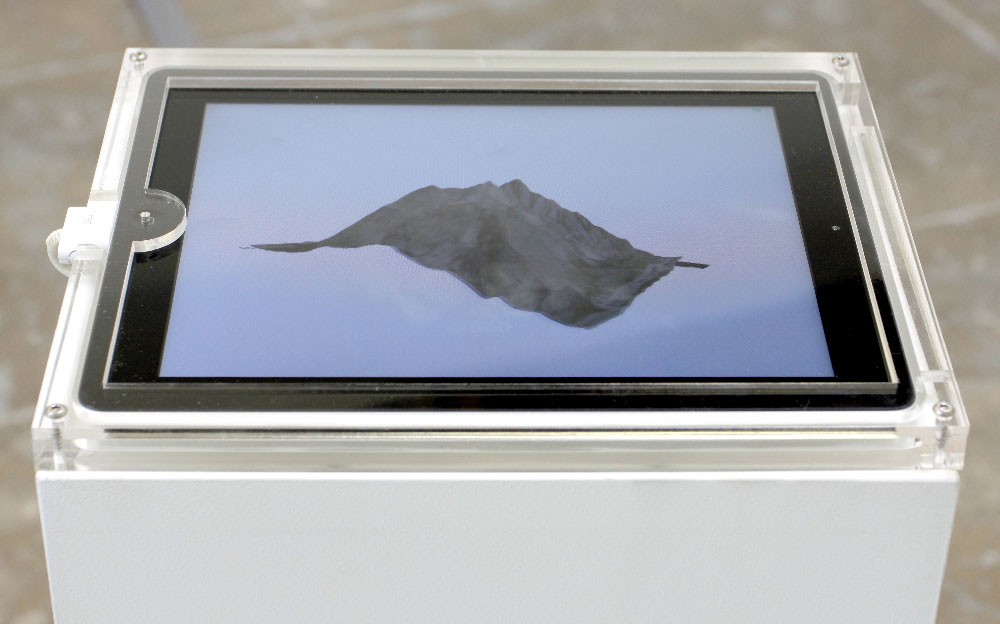 Master Copy (Mount Moran), 2014
Interactive 3D rendering on iPad, painted wood pedestal, 10.25" x 8" x 38"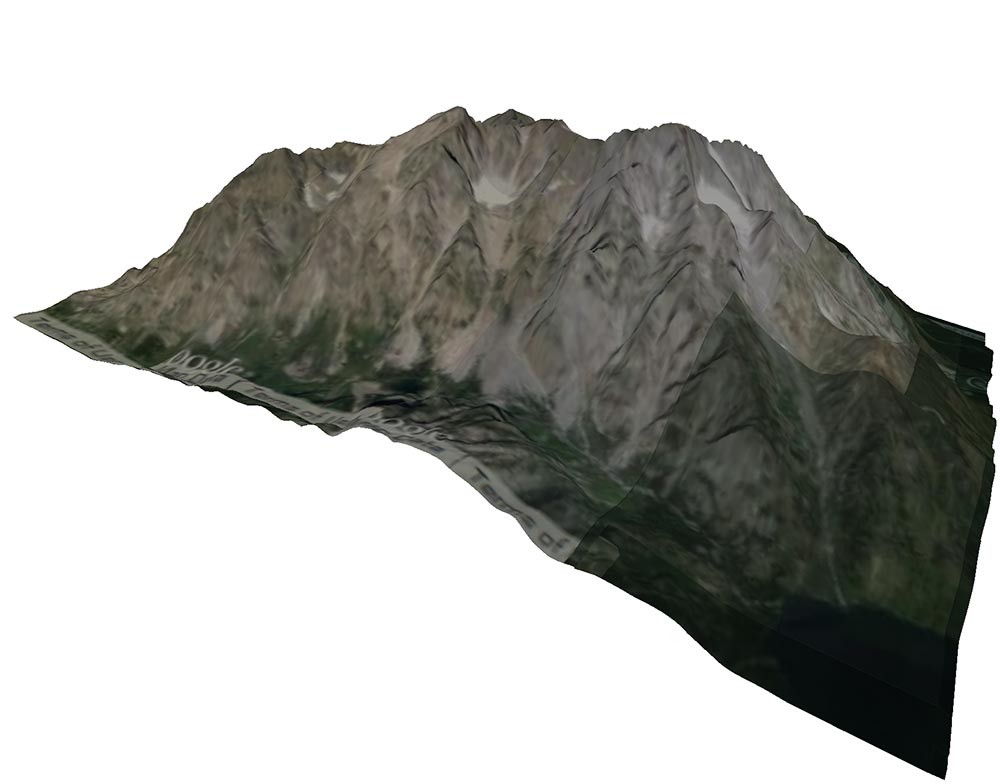 Screenshot of Master Copy (Mount Moran) 3D rendering in rotation
 
 
Master Copy/Copy (Mount Moran), Installation at David Smith Gallery, Denver, 2017
In a more recent iteration of Master Copy/Copy (Mount Moran) (2014), I made thin gypsum plaster casts of the 3D print, then hand sanded each of the tops flat, and supported each one with precarious toothpick scaffolding. I made these casts after the appalling news that our president had pulled out of the Paris climate accord. Here the mountain becomes fragile and somewhat falling apart. Lights illuminate them from the side casting shadows of the mounts on the wall to create a new "range". If the mountain was once stable and fixed, our current climate puts this in question: In an era of "alternate truths" nothing is stable, everything is fragile.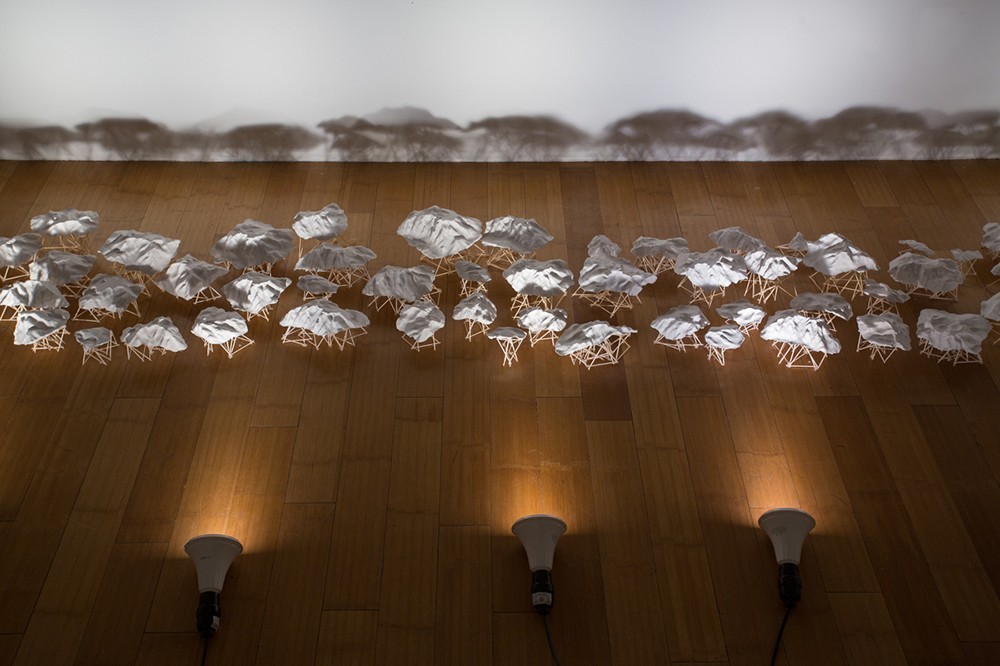 Master Copy/copy, 2017
Gypsum, wood toothpicks and thermo-plastic
84 pieces - various dimension
Installation at David Smith Gallery, Denver, 2017
 
 
RANGE, Installation at David Smith Gallery, Denver, 2017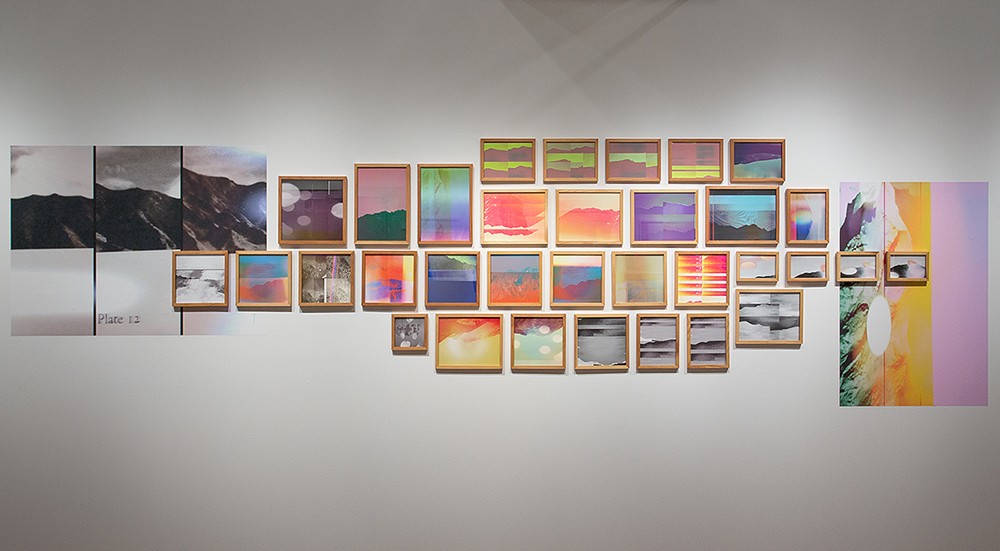 Installation, David Smith Gallery, Denver, CO, 2017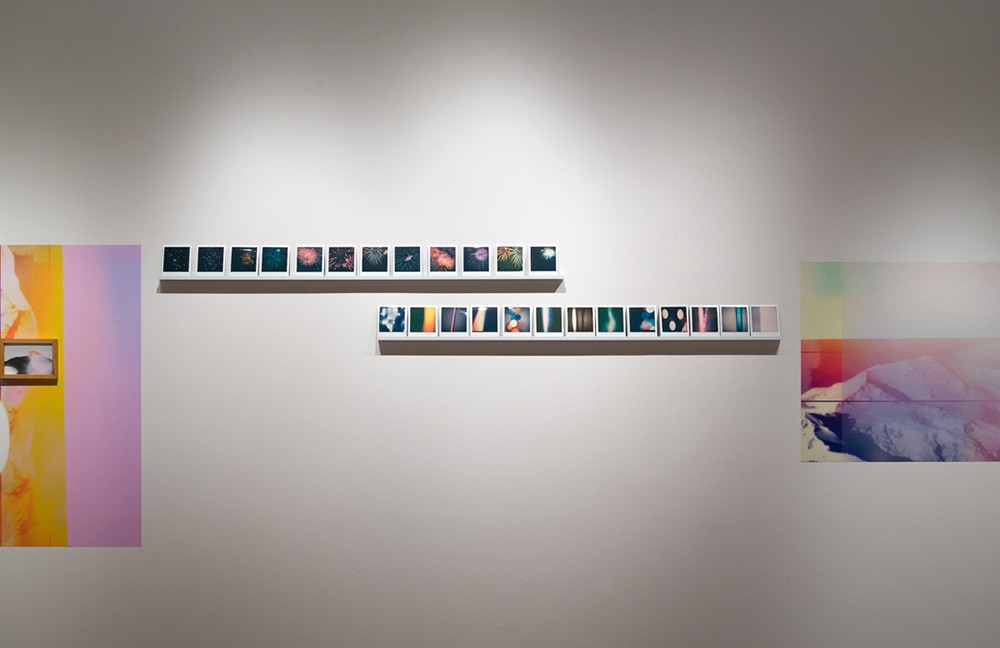 Installation, David Smith Gallery, Denver, CO, 2017
 
 
media:gimg '91_Umbrico_RANGE_2012-ongoing_29.jpg' />
Installation, David Smith Gallery, Denver, CO, 2017
 
 
A Partial List of Smart Phone Camera App Photo Filters:
 

Flares Hearts Dandelion Magic Dust Bokeh Raven Glow Smoke Stars Sparkler Glow Line Scratches Dust Stains Tags Cracks Posterize Silk Dotter Edger Legacy Sepia Hollywood Vintage Freshen Drips Charcoal Daubs Van Gogh Hatching Spray Chalk Normal Papilio Stark Vivid Ethereal Dry Clean Mist Decolor 7AM 1974 Buenos Aires Pro Denim Smoky B&W Shuffle Royal Blue Poster Monroe Toaster Gallery Slender Stage Disco Simple Rounded Bulged Double Oval Papyrus Book Stamp Ripple Pixel Levels Broken Star Heart Fade Wood Cabin Grunge Lo-Fi Lo-Mob Lo-Mob Outdated Tri-Black Film 35mm MF 1 35mm MF 2 35mm Superslide 1 35mm Superslide 2 Slide 1 Slide 2 6x6 TTV Virage 6x6 TTV '70 6x6 TTV '80s 6x6 TTV '80s 2 6x6 TTV Koretico AE TTV Saturated AE TTV Print AE TTV Desaturated '60s Square Emulsion '60s Square Virage '30s Contact '30 Contact 2 News Emulsion News Emulsion 13 News Emulsion 77 News Emulsion 71 Vintage Instant Family Instant 1 Family Instant 2 Family Instant 1 outdated Impossible Back Instant 2 Instant Emulsion INSTAnt-X Tall INSTAnt-X Wide 6x9 Instant Emulsion Instant Wide Instant Wide bis Instant Medium Format Blanko Ina's 1982 Ina's 1969 Kodot XGrizzled Ina's 1935 BlacKeys B+W BlacKays SuperGrain Claunch 72 Monochrome Alfred Infrared Pistil Float Jane John S Jimmy Kaimal Mark II Buckhorst H1 Helga Viking Lucifer VI Roboto Glitter Bettie XL Cherry Shine Cadet Blue Gel RedEye Gel Laser Lemon Gel Juicy Orange Gel Purple Raindrops Gel Leprechaun Tears Gel Berry Pop Abbey Road + Tilt Shift Another World Another World 2 Antique Brass Blue Grain Brandy Brandy Sky Burning Beach Colotype Normal Colotype Normal Pale Oyster Sepia Warm Colotype Normal Daguerreotype High Contrast Vintage Daguerreotype Normal Daguerreotype Sepia Daguerreotype Fade Sepia Vintage Warm Fujifilm Cool Dark Vintage Fujifilm FP 100C Kodak E100S Bright Cool Vintage Kodak Portra 400 VC 120mm Kodak Gold 400 Color Color HDR Vintage Lomography Redscale 100 35mm Lomography Redscale 100 35mm Yellow Polaroid 600 Polaroid 669 Polaroid 669 Cool Polaroid 669 Highlight Polaroid Polachrome Color Fade Polaroid Polysulphide Gold Toner Rollei IR 400 B&W HDR Tetenal Copper Toner Cross Processing Americano Color Fade Cross Processing Vintage Warm Cross Processing Antique Brass Cross Processing Aqua Island Cool Fade Cross Processing Battleship Gray Cross Processing Blue Lagoon Cross Processing Bone Cross Processing Copper Cross Processing Early Morning Cross Processing Fruit Salad Cross Processing Glade Green Cross Processing Gothic Cross Processing Green Cyan Cross Processing Green White Cross Processing Gumbo Cross Processing Holga Blue Cross Processing Light Green Cyan Cross Processing Limed Ash Cross Processing Mantle Cross Processing Moon Mist Cross Processing Moss Green Cross Processing Natural Gray Cross Processing Neptune Cross Processing Nobel Cross Processing Opal Cross Processing Pale Oyster Cross Processing Pale Sky Agfa Optima Cross Processing Pewter Cross Processing Pale Glade Cross Processing Raffia Cross Processing Regent Gray Cross Processing Roman Coffee Cross Processing Sandal Cross Processing Sea Nymph Cross Processing Seagull Cross Processing Shadow Cross Processing Shady Lady Cross Processing Silk Cross Processing Silver Chalice Cross Processing Silver Light Cross Processing Smalt Blue Cross Processing Soft Peach Cross Processing Spanish Green Cross Processing Stack Cross Processing Star Dust Cross Processing Sycamore Cross Processing Viridian Green Cross Processing Waterloo Cross Processing Wild Willow Cross Processing Xanadu Filter Aged Fade Filter Bison Hide Filter Bleached Cyan Filter Boulder Filter Brandy Filter Cinema Filter Classic Fade Filter Daido Moriyama 1 Filter Daido Moriyama 2 Filter Daido Moriyama 3 Filter Daido Moriyama 4 Filter Delta Filter Dusty Gray Filter Fashion Photo Filter HDR Akaroa Filter HDR Highlight Filter HDR Holy Light Filter HDR Padua Filter Hard Edge Split Filter Hard Sunset Filter Nepal Filter Overexposed Tide Filter Overexposed Tower Gray Filter Pale Oyster Filter Red Bleach Filter Solemnity Contrast Filter Sunlight Faded Filter Tide Filter Wheat Filter Hard Edge 4 Colors Filter Hard Edge 8 Colors Filter Hard Edge 16 Colors Filter Hard Edge 32 Colors Filter Hard Edge 64 Colors Filter Hard Edge 128 Colors Filter Obama Filter Solarize Filter Rude Boy Split Toning Barley Corn Split Toning Bazaar Split Toning Bison Hide Split Toning Bombay Split Toning Dark Makara Split Toning Dawn Pink Highlight Split Toning Donkey Brown Split Toning Gulf Stream Split Toning Hippie Blue Split Toning Hurricane Split Toning Lemon Grass Split Toning Makara Split Toning Moon Mist Split Toning Pale Oyster Split Toning Pale Sky Split Toning Putty Split Toning Sepia Almond Split Toning Sepia Silk Split Toning Sepia Plate Oyster Split Toning Sepia Yellow Split Toning Sepia Ash Split Toning Sepia Bison Hide Split Toning Sepia Quicksand Split Toning Sepia Red Beach Split Toning Sepia Rodeo Dust Split Toning Sepia Satin Linen Split Toning Sepia Soft Amber Split Toning Slate Gray Split Toning Slight Magenta Split Toning Squirrel Split Toning Stonewall Split Toning Warm Brown Split Toning Zorba Vignette Eclipse Vignette Eclipse Lump Vignette Square Vignette Square Lump Vignette Circle Vignette Circle Lump Vignette Bar Vignette Bar Wide Vignette Bar Lump Lomography Calm HolgaGraphy BlueVintage RedVintage Dark Green Vivid RedPlastic RedFilm GreenPlastic GreenGel BluePlastic BlueGel YellowPlastic YellowGel VintageKhaki LimeLight Studio IndigoHalo Indigo Cross GreenCross RedCross Instant Vanished Bleach HalfGray IndigoGray DuoTone OldRed Retro DarkSepia BluePrint Cinema MultiExposures MultiExposuresBlack ColorShake Sterogram Quad VerticalQuad Mirror PopArt Light Leak Bokeh Halation Pinhole Scratch Scratch Hard Smoke Light Sand Grunge TV Screen News Paper Grain Rub Rust Aladin Amber Anne Antonio Bob Dean Fred Greg Hagrid Harry Ivan Jean Josh Karen Lucas Melissa Peter Ramona Salomon Samantha Sara Sophia Tom Tony Artfunkle Ashley Fei Gadelf Grayson Helena Jinx Kim Max Pax Piper Ray Yin Camille Hans Jessica Jones Laila Mary Per Robert Rose Sarah Thomas Adrian Alex IanIngrid Janine Merissa Ronny Roxy Sanna Agatha Agnes Gordon Harrison Henry Logan Shaan Amy Chloe Danie Derek Elenore Ethan George Gram James Jayden Jonathan Joyce Justin Kirsten Luke Mio Mirja Penelope Ryan Tida Borg Carl Doris Doug Earl Jyler Kevin Nash Polak Rusty Satya Stan Sun Beep Bocea Bubble Burn Cyborg Devine Focal Foggy Gaze Glitter Kryptonite Leak Local Metal Morning Paint Rain Rainbow Redum Scratches Shine Stop Street Stripe Subtle Trails Twinkle Vignette Wave Worn Birds Butterfly Citrus Dewy Dreamscape Flounce Flowers Hearts Loove Moody Moons Morning Night Princess Sign Spiderweb Stars Summer Carbon Cross Fabric Floor Harsh Paper Sand Skin Soft Wall Weave Alien Early Fall Forward Horizon Lady Manta Onoff Rise Spill Tromb Blue Bluegrad Green Ldgrad Lightblue Ndgrad Pink Red Wdgrad Adorned Yellow Banded Blocked Broken Bubbly Cracked Dusty Gummy Inked Leafy Plastered Scratched Screened Shattered Smoky Sparkly Speckled Splashed Splattered Slitched Stoned Streaked Stringy Wiped Wired Wooden After Cool Crown Focal Gazer Gloacal Orange Ovverride Pop Rad Road Rose Sided Spotty Strike Sunday Blush Corn Dragon Even Goblin Golden Heavy Intence Miss Night Orange Peace Rgb Shade Shark Showdown Shunt Stick Sun Ufo Adam Adelina Alin Amalia Andrei Anton Bogdan Catalina Costata Corneliu Costel Decebal Doina Dragomir Emil Gavril Ghenadie Llie Barock Bleach Cactus Castle Dotted Flowerpower Ink Maid Meatch Pen Pinecone Rokkoko Scrub Shader kirt Stripple Summer Sunflower Swing Transform Beam Burst Disco Grass Gritty Marks Mech Pipes Roger Star StudioTech Ufo Above Angry Cobal Deep Doom Funnel Light Mystic Mytele Raise Twirl Ain Alcyone Alfirk Alnitak Alya Ankaa Ascella Azelfage Baham Canopus Celaeno Dabih Daneb Enif Gienah Hea Heze Jabbah Kraz Lesath Maia Matar Megrez Menkent Mimosa Minkar Muscida Nunki Phad Pleione Procyon Rigel Ruchba Sadr Sargas Scheat Shaula Syrma Taygeta Yidun Apple Aubergine Avocado Blueberry Boysen Cocco Grape Hasel Lychees Mango Orange Pear Plum Rose Ball Bronze Center Clean Dim Frame Horizon Light Opposite Parallele Redone Small Soft Standards Uneven Dirt Film Flowery Ground Grunge Hassel Nolariod Old Perga Peri Pinstripe Pint Round Rustic Scan Scrap Sloppy Smoke Soft Spot Swollen Tiny Trash Web White Wispy Ball Bluf Bluk Dark Grej Large Light Shade Simple Tidy Candy Circle Crack Drip Intertwined Skull Twirl Blackeiht Blackelvn Blackfine Blackone Blacksvn Blackten Blacktri Coloreith Colorelvn Colorfiv Colorfyr Colornin Colorone Colorsix Colorsvn Colortin Colortri Colortwo Whitefiv Whitefyr Instant 1 LomoArt Viewfinder 2 Cross Process Summer 1 Summer 2 B&W Cooler B&W Warmer B&W Vintage 1 Vintage 2 Vintage 3 Old Photo 1 Glowing B&W B&W Dramatic Sepia Pinhole Gritty HDR Grunge 1 Grunge 2 Warming Cooling Violet Orton Vibrance TiltShift HolgaArt Cyanotype Sketch Pop Art 1 Duotone 2 BAsic White Rounded Drop Shadow Halftone Instant 1 Filmstrip 5 Grunge 1 Grunge 2 Grunge 3 Postage Classic 1 Classic 2 Classic 3 Auto Scene Flash Scene Backlit Scene Darken Scene Cloudy Scene Night Scene Portrait Scene Beach Scene Scenery Scene Food Scene Fluorescent Scene Tungsten Scene Concert Scene Text Scene Snow Scene Party Scene Aquarium Scene Foliage Scene Shade Scene Drama HDR Detail HDR Bright HDR Darken HDR Sunrise HDR Sunset HDR Afternoon HDR Vintage HDR Sky HDR Ground HDR Blur Focus-center Blur Focus-left Blur Focus-right Blur Mini-high Blur Mini-low Blur Mini-center Blur Vertical Blur Concrete Grunge Dirt Grunge Daguerreo Grunge Aged Grunge 80sVideo Grunge Overdue Grunge Sack Grunge Vertigo Grunge Scratching Grunge Slasher Grunge Old Paper Grunge Storm Grunge Bark Grunge Sin City Grunge Sparta Grunge Cartoon Art Sketch Art Negative Art Flaming Art Shocking Art Purple Cow Art Predator Art Vanilla Sky Art Yellow Sub Art Hot'n Cold Art Nancy Art June Bug Art FPM Art Sync Art Toxic Art Neon Art Frogtoon Art Mint Art Icy Art Gaga Art Lomo Vintage Lucid Dream Vintage Siesta Vintage One Day Vintage Miami Vintage Pomade Vintage Enciel Vintage Sawyer Vintage Fermata Vintage Humming Vintage Camden Vintage Sadness Vintage Classic Vintage Expired Vintage Warmth Vintage Robin Vintage Manila Vintage Violet Hill Vintage Bicycle Vintage PennyLane Vintage Betty Vintage Toy Vintage Milky Vintage Leon Vintage Jude Vintage Narciss Beauty Blusher Beauty Purpler Beauty Belle Beauty Victor Beauty MaryJane Beauty Make-up Beauty Goldish Beauty Bikini Beauty April Beauty Liz Beauty Rapunzel Beauty Giselle Beauty Scarlett Beauty Emma Beauty Annie Beauty Camille Beauty Anastasia Beauty Nana Beauty Madonna Beauty Irene Beauty Matilda Beauty Yuki Beauty Rose Beauty IU Beauty E-Chrome Professional K-Chrome Professional F-Chrome Professional Real-a Professional Port-a Professional Cross Process Professional Bleach-Bypass Professional Hollywood Professional Fashion Professional Seoul Professional Milano Professional Bradford Professional Vancouver Professional Bakerfield Professional Koeln Professional Osaka Professional Bangkok Professional Jakarta Professional Philadelphia Professional Sevilla Professional Sao Paulo Professional Thane Professional Kuala Lumpur Professional Red Splash Color Splash Green Splash Color Splash Blue Splash Color Splash Red Pop Color Splash Orange Pop Color Splash Yellow Pop Color Splash Grass Pop Color Splash Green Pop Color Splash Emerald Pop Color Splash Sky Pop Color Splash Blue Pop Color Splash Purple Pop Color Splash Pink Pop Color Splash Red-to-Blue Color Splash Red-to-Green Color Splash Green-to-Red Color Splash Green-to-Yellow Color Splash Blue-to-Red Color Splash Blue-to-Emerald Color Splash Blue-to-Grass Color Splash B&W Black & White Chaplain Black & White Sepia Black & White Dramatic B&W Black & White TMAX Black & White Delta Black & White Cyano Black & White Retro Black & White BlueJean Black & White RedScale Black & White Silvertone Black & White High Key Black & White Low Key Black & White Noir Black & White Red-Channel Black & White Green-Channel Black & White Blue-Channel Black & White DeepBlue Black & White Reddish Black & White RedScale #2 Black & White Vintage B&W Black & White LittleSky Black & White Turquoise Black & White Orchid Black & White Plum Black & White Original Clyde Avenue Haas Arizona Lucky Dean Keylim Boardwalk Sentosa Sage Metropolis Cruz Snowdrift Holly Poinsettia Bells Golden Xmaslights Brume Silo Halcyon Barboza Noble Cinder Indio Havasu Rio Grande Marfa Sedona Durango Irony Parody Proto Comic Fame Express Pistol Ivory Punch Instant Studio Antique Splatter Grit Negative Stamp Museum Matte Geraldine Gladys Melvin Mildred Norman Teddy Angels Arrowhead Corners Mint Mountains Santa Fe Candy Cane Evergreen Lights Ribbon Snow Stitch Arrows Daisies Gerbera Hearts Lace I Lace II Leaves Condensation Rain Aqua Sun Lightframe Lightroad Partylight Heartbox Fantasy Elune Oldmovie Retro Thelion The Pit Difer Enlight Freedirt Grunge Roman Holiday Lone Star Road trip Joan of Art More Cowbell Blue Pill Goddess Hoth More Wang Ruby Slippers Band Camp Buried Treasure S'mores Trinity Teenage Dream Pillow Fight Cibo Bombshell Bronze Age Truffle Shuffle Firefly Saloon High Noon Pin Up The Dude Dragon Monkey Flashback Cobi Mardi Gras Samurai'd Big Trouble Little China Black Widow First Kiss Second Base Morning After Dapper Love Note White Russian Flashbang Rosebud Gold Rush Screech BFG Shell Shocked Wonka Mostly Dead Art School Dropout Boomstick Ectoplasm Road Rash Black Magic Brown Note Aftermath Auper Nova Bodice Ripper Lunar Landing Shaken Not Stirred Pimpin' Prime Wedgie My Precious Artsy Fartsy Greasy Spoon Residue Transfer Grandma's House Wax Paper Violet Hour Olde Shoppe Plum Wine Applejack Toy Camera Yellowstone Portal Sun Bleach LA Sunset Dust Bunnies Hang Ten Shoe-polish Lemonade Fezzy Wing Tanning Bed Stoned Wine Wood Firepit The Kraken Iodine Chatreuse Dark and Stormy Occupy Chowdah Ceramic 99% Scenic Route Kimchi 1% Old Glass Plastered Pretty Hard Maelstrom Nog Batik Paranormal Bonfire Rear Window High Tide Silent FIlm Ultra Elite Pro Super Vibrant Cool Warm Emerald Cooler Classic Expire Flapper Disco Plum Cabernet Nam Over Exposed Blue Moon Noir Faded Sepia Split Violet Silvered Punch Faded Strong Sepia Bromide Split Sepia Misty4Me RedDragon ShadowOpener TenSixties Chocolate TimeMachine BurntCream FamilyJewels RetroCity CoffeeCamera ModSeventies Twilight Bleachy DawnPatrol Dark Chocolate BlackTruffle CreamSoda BlueBayou VintageWash FilmInAHotCar Flashback CinnamonStick Ebony Macchiato GoldenDelishUs CocoSwirl GroovyBaby Family Album Crushing It Nostalgia CleanX Phoenix Egg Tang Shoe Box Denim Sandbox Well Aged Sand Blasted Leaky Roof Singed Weathered Roadside Diner Most Wanted Rusted Sheepskin Core Sample Plague Dry Rot Davy Jones Gravestone Hancock Rawhide Waterlogged Prehistoric Burlap Vellum Kraft Stationary Cotton Watercolor Elementary Woven Canvas AgedWell Blast CrackedUp Grung-O-Matic Lava PaperMoon ReverseRoughage TerminatorSkin Unleaded BurntEdgePaper DermaPeel FullMetalJacket GraffityReadyWall HeavyMetal OldPaper PseudoScratchedFilm RustNeverSleeps FRAMED Crakleate Rocklit Soichi Streaker Tainted Woody Flare Leakage Sunburnt Freshman Viewfinder Porthole Crust Sophomore Peel Cracker Sprockets Gears Extra Fine 400 Micro Comix Over Played Fiber Light Leak Bootleg Scarlet Frosted Tissue Rip-Torn Raw Edge Birch Bark Torched Unfinished Marbled White Castel MJ The Strip Leaded Window Vader Vacuum Tube Reel Fallout This is it! Bamboo Electric Boogaloo Eugenia Hemi Peel Micky Ernie Ripples Scalered Scooby TrueColorSloppy Bob Jughead Pua Skin CherryBomb Punchy Flamer Kinky Tracks DirtyBlackFrame FilmNoir KubotasArgus PostModernFilm RyansBrownieReflex RyansPremo ScratchMyBack Vibrant Sunkiss'd Purple haze So Emo Cyanotype Magic Hour Redscale Black and White Sepia Lomographic '70s Toy Camera Hipster Tailfins Fashion Lo-Fi Ansel Antique HRD MIniaturize Polarize Grunge Depth of Field Color Dodge Overlay Faded Cross Process Mono Tonal Noir Fade Chrome Process Transfer Instant Diana Silver Gelatin Helios Contessa Nostalgia Expired XPRO C-41 Pinhole Chromogenic Neo Action Enterprise Amelie Dreamstate Madison Ave Home Movie Gotham Silent Movie Thick White Thick Black Light Mat Thin White Thin Black Dark Mat Round White Round Black Vignette Vintage Offset Light Grit Dark Grit Viewfinder Old-Timey Film Sprockets Poster DVD VHS Letterbox HDTV CRT Super 8 16 mm Super 35 Zero Rez Aqua Dixie Sky Dusk Friend Sassy NYminute Shock Wave Classic Sunshine Black&White Golden Sunset Memory Film Ivory Clarity Wine Warm Luna Lemon Lavender Romantic Peony Khaki Violet Volcano Chocolate Beige Autumn Spotlight Sunbath Instant Fade Turquoise Rouge Overcast Spring Hue Blue Hue Green Hue yellow Hue Red Vintage 1 Vintage 2 Vintage 3 Vintage 4 Vintage 5 Vintage 6 Dark Bright Sharpen B&W B&W Gaint B&W Bright B&W Dark Pencil Sketch Color Sketch Oil Paint Blue Grid Plankton Blink Dust Kraft Frosted Grunge Burning Stardust Palette Grain Dirt Scratch Mouldiness Spring Summer Autumn Winter Early Winter Aummer Love Sunlight Sunlit Bright Sunshine Yellow Kodachrome LOTO400 Sakura Sepia 200 1920s X-pro 200 Tri-X 400 Red Scale FUJI Velvia FUJI T64PRO Basic Cinematical Destiny Faded Narwhal Platinum Sepia Bright Antique Old Purple Tint Tallah Earlybird Twilight Toaster Shadowland Nashville Gotham Los Angeles Happy SanDiego Lord Kelvin Brannan LC-A Holga Diana Redscale Hipster Pinhole Super 8mm Golden Age 70s Expired Burnt Classic Faded Film Grumpy Love Super Tinny Warm Extreme X-Pro I X-Pro II Red Blue Carmine Cold Blue Cold Crimson Crimson Edgy Amber Green Sienna Sky Leaves Maple Rolleiflex Argus Bronica SQAi Contaflex Kinaflex Duaflex Kodak Brownie Anscoflex Argus 75 Argoflex Tower reflex Minolta 7000 INSTA01 INSTA02 INSTA03 INSTA04 INSTA05 INSTA06 INSTA07 INSTA08 INSTA09 INSTA10 INSTA11 INSTA12 SIMPLE01 SIMPLE02 SIMPLE03 SIMPLE04 SIMPLE05 SIMPLE06 SIMPLE07 SIMPLE08 SIMPLE09 SIMPLE10 SIMPLE11 SIMPLE12 Singe Vivid San carmen Indiglow Concorde Aqua Strato Laguna Ventura B&W Sepia Soft Focus Clarify Tuneup Pro Happy Backlit Flash Recover Hilights Sunny Chilly Serenity Lowlight Instamatic Polaroid Soft Focus Toy Story Color Burst Dawn Dusk Faded Glory Canvas Park Slope Roadhouse X-Pro Lomo Hipster Purple haze X-Tech Angry Pants Dynamic HDR Dramatic Hammer Time Grunge Blue Suede Pale Aquatic Crushed Dazed Heirloom Conflicted Energetic Vivid Fade Out Bleach Bypass Amplify Double Down Old School Moody Sun Kissed Rockwell Pastel Sketch Oil Paint Fresco Technicolor Realtor Vanity Fair B&W Portrait Lite Portrait Dynamic B7W Newsprint Sepia Super Sepia Silver light Blue Bayou Sharpen Vibrant Intense Retro Desaturate Faded Black&White B&W Contrast Sepia Cobalt Yellow Filter Blue Filter Cross Pro Technicolor Cross Tech Stark Super Sharp Cross Cut Bleach Bypass Dynamic Dramatic Small Black Medium Black Large Black Soft Black Small White Medium White Large White Soft White Color Burst Big Burst Deep Focus Deeper Focus Black Matte White Matte Canvas Stone Concrete Paper Antiqued Scratched Slate Old Paper Leak Leak II Thin Black Thin White Black White Black Inset White Inset Black Round White Round Parchment Burlap Black Brush White Brush Torn Canvas Torn Edge Black Splatter Black Artsy White Artsy Funky Marker Charcoal Black Strokes Clarify Overcast Backlit Add Flash Recover Highlights Soft Light Flood Light Night Warm Cool Calm Hot Contrast Low Contrast Amaro Mayfair Rise Hudson Valencia X-Pro II Sierra Willow Lo-Fi Earlybird Sutro Toaster Inkwell Walden Hefe Nashville 1977 Kelvin Original Clyde Avenue Haas Arizona Lucky Dean Keylime Boardwalk Marie Sage Metropolis Cruz Pistol Ivory Punch Instant Studio Antique Splatter Grit Negative Stamp Museum Matte Vegas Vibrant Renee Monroe Nevada Cinema Kruger Danford Saga Faded Pixellate Polka Dot Halftone Sketch Toon Emboss Vignette Swirl Bulge Pinch Distortion Brush Strokes Brush Strokes Vivid Pencil Paint Pencil Paint 2 Posterize Dark Contours on White Color Contours on Black Dark Engraving Art Contours Color Reprint Abstract Contours Linocut 1 Linocut 2 B&W Grained Grayscale Black and White B&W Magazine Blur Vertical Blur Horizontal Blur Radial Blur Tilt-Shift Explosion Inver Image Burnt Colors Rainbow Palette 1 Rainbow Palette 2 Color Explosion Color Sunlight Spots Solarize Tritone Tritone 2 Cold Blue Cool Blue Cool Warm Warm Yellow Hot Yellow Atlantic Beach Sonoma Lindale Socorro Daytona Altamonte Lauderdale Glendale Midway Pacific Crystal River False Mirror 1 False Mirror 2 False Mirror 3 False Mirror 4 Rippled Glass 1 Rippled Glass 1 Rippled Glass 2 Rippled Glass Dotted Photo 1 Photo 2 Photo 3 Photo 4 Photo 5 Photo 6 Photo 7 Butterflies 1 Butterflies 2 Flowers Cupids Cupids 2 Stardust Sepia Yellow Neon Glow Vivid Color Glow Grayscale Glowing Edges Dixon Tokyo Derby Turin Napa Ancona Bilbao Ensley Lantana Sanibel Griffin Kenai Conley Stencil Poster Grunge Rays Grunge Rays Sepia Stencil Graffiti Blue Green Pink Turquoise Purple Yellow Red Water Circles Water Sparkles Big Sparkles Small Frost Water Drops Fire Teddy Bear Scary Face Scary Skull Ghost Lightning Bubbles Kisses Steamy Window Color Stars Hearts Lemoore Monterey Marine Noir Red Noir Sepia Mars Noir Blue Amsterdam Hippie 3D-Effect X-Ray Night Vision Cam Mosaic Night Vision Noise Bumpmapping Pixelate Pencil Old Color Pencil Charcoal Color Charcoal Pen Crumpled Paper Leather Canvas Texturize Rusted Metal 1 Rusted Metal 2 Dirty Picture Rough Fabric Aged Old Photo Burnt Paper Old Film Frame Vintage Vintage Red Vintage Green Vintage Blue Vintage Grayscale Ancient Canvas Old TV Sepia Sparta B&W Comics Twilight Predator Vision Color Comics Alien Skin Dusty Instant leak Instant film Finn Russ Leila Horine Ablaze Kus Vallejos Dallas Dreamy Schude Idaho Curious Nico Ash Coal Raven Coral Crest Frost Captain Marine Ember Glacier Olive Chestnut Forest Bloom Whim Lume Meadow Lumber Rain Hollow Goldfinch Crimspn Sage Atlas Breeze Relic Magnolia Mulberry Brook Hedge Bay Row Sailor Reef Grove Thorn Antler Elm Howl Cave Moon Wicker Color Splash Light Cross Lomo Poster Pastel Comic Water Color Contours Sketcher Old Paper Grafit Neon Gouache Holgaart 1 Holgaart 2 Swirl Mirrors Hue Ghost CrossProcess Twilight Warm Color Light Cross Cinerama Vignette Orton Cross Process Lomo Vintage B&W B&W Cross B&W Vintage B&W HDR Soften Sepia SmartBlur HDR 1 HDR 2 Sharpen Poster Halftone Dots option Blur Shear Focal Zoom Mirrors Caricature Fish Eye Swirled Cylinder Mirror Bathroom Tangerine Hiro Ristretto Hipster Twice Stylo DVNO Airbag Donuts Wave Maybes Risings Bad 8-Bit Cross Persimmon Mango Poppy Calabaza Mercury Pulp Jello Portrait Holiday Reasons All in Laura Da Funk Animal Zombie Exodus Mr.G Circles Walden Sutro Lomo-Fi Inkwell Gotham Brannan Early Bird Hefe Nashville X Pro II c
 
 
 


Glory, 2014
Single-channel digital video
1 min excerpt from 16 min<